Now more than ever, the older generation is becoming increasingly cut off from society. Confined to their homes because of the COVID-19 pandemic – isolation is a huge problem that we must do more to tackle in order to help people feel more connected; could gaming be the answer?
For those of you who're reading this, who're not gamers – you may scoff at the mere suggestion of trying to get your grandad to play Fortnite with you – but here us out.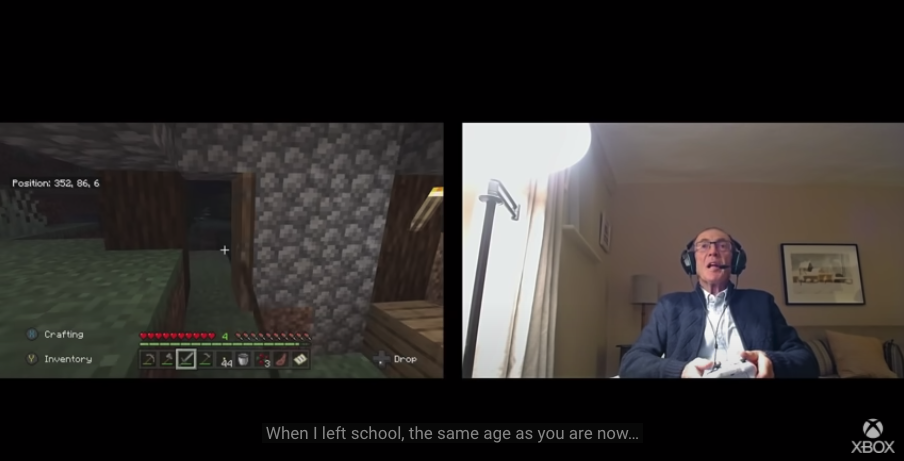 Gaming is proven to help people build and maintain real-world relationships and, at a time where we must all be apart to keep one-another safe, it's proving to be a very effective way to keep people of all ages connected.
Take Xbox: Beyond Generations as an example. The campaign's aim is to encourage inclusive gaming and bridge generational divides. Launched via a mini documentary-style film, the campaign depicts a real family's journey towards reconnecting with each other via gaming. Granddad Howard and grandson Dhillon once had a close bond, but as Howard lives nearly three hours' drive away and is not as physically active as he once was, they've drifted apart.
My grandad, with his knee injury, can't run around with us in the garden anymore. We stopped doing the things that kept us really close, says Dhillon.
During the film, you see Howard and Dhillon's relationship develop once again as they embark on virtual road trips in Forza or sail on virtual ships together in Sea of Thieves. Although it's no longer possible for them to create memories in real life, sharing online experiences help them to rekindle what they once had; talking to each other about their lives and forming a deeper bond – something that's hard to replicate via empty phone calls.
With its Beyond Generations campaign, Xbox is also partnering with several charities to help support the needs of older people. In the UK, Xbox will support Age UK.
You can help too – if you know your way around tech, consider becoming an Age UK Digital Buddy – someone who helps older people to understand and use technology to stay connected with friends and family as well as to access support when needed.
At Age UK and Age International our mission is simple – we support older people who need us the most, especially those who have no one else to turn to,
says Age UK Fundraising Director Laurie Boult.
Technology can really help us all connect, but sometimes the most vulnerable older people need more than that. That's where we come in. We help provide emotional, social, and practical support to older people in more than 25 countries, with programmes ranging from emergency humanitarian aid, to access income and pensions, healthcare, advocacy and influencing governments to consider the needs of older people.
So, coming back to our original question; can gaming really help older people feel more connected? The answer, we think, is YES! Gaming connects people from all walks of life; from all ages, socio-economic backgrounds, countries, genders, sexualities. Gaming is inclusive and it really does have the power to help people feel part of something – part of a community. And that is so important right now.
Here at HYPD, we're passionate about creating an inclusive and diverse gaming community, as well as providing our players with unforgettable gaming experiences.
For brands businesses and charities – we can help connect demographics in a completely new way – and with the help of our team of world-beating consumer psychologists, we can get to the very heart of how your audience thinks and feels, in order to deliver more authentic & engaging campaigns.
Do you play Xbox with an older family member or family friend? Let us know.
To view more of our interesting, insightful articles and latest news – click here.