LinkedIn is an unlikely choice of platform for brands wanting to connect with gamers – when you think about gaming and how to connect with the gaming audience online, you likely think of Twitch, YouTube, Facebook, with Twitter and Snapchat also considerations. But, that's the pitch that LinkedIn is putting forward with its latest insights.
According to LinkedIn, 55million of its active members in the US are also gamers and engagement with gaming-related content amongst its users increased by 37% year-on-year in the first half of 2020!
Gaming is becoming increasingly popular and is a key connector in online trends, as more people enter the world of work.
On LinkedIn, gamers are everywhere. From startup leaders to parents and middle-school principles, the category of "gamer" includes hundreds of millions of LinkedIn members. In fact, a Nielsen custom study commissioned by LinkedIn found that LinkedIn members who are Gamers plan to use LinkedIn 54% more often than they have in the past, and 81% of gamers use LinkedIn at least once per week and are more engaged than our general member base​. 
Lots of brands have already taken advantage of LinkedIn's growing gamer audience, including Microsoft and Verizon — who've both tapped into the power of LinkedIn to share their latest product announcements.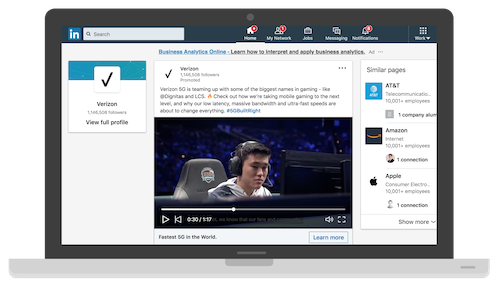 Still, doubt the insights? Check out LinkedIn's infographic, which delves into the evolving gaming discussion and how brands can connect with gamers on its platform.
If you'd like to understand how to use a range of various platforms to engage with the gaming community, get in touch – we'd be happy to help!
To view more of our interesting, insightful articles and latest news – click here.